Row-level Security Trick with WebIntelligence
Can I Get Row-level Security with WebIntelligence and Still Avoid a Document Refresh?
Sure!
As a follow-up to my post yesterday I wanted to step back and say that normally you do want to handle row-level security from within the semantic layer. The problem is that you can't get the benefit of the speed of data that comes from historical instances without requiring each user to run the report for themselves.
I did discover that you can provide the same type of security within WebIntelligence. WebIntelligence also has a function which also returns the name of the current user. The function is CurrentUser.
1. The first thing I need to do is build the semantic layer to include my security table.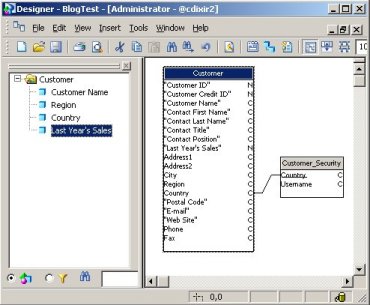 2. Next, create a new variable which returns a 1 or 0 based on whether or not the user should see the data or not.
=If(CurrentUser()="Administrator" Or CurrentUser() = [Username];1;0)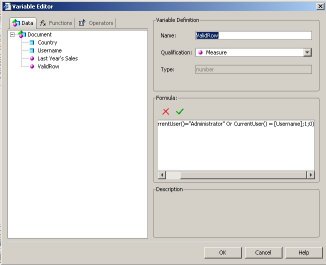 3. Create the report and apply the filter to the entire report or to the appropriate data block.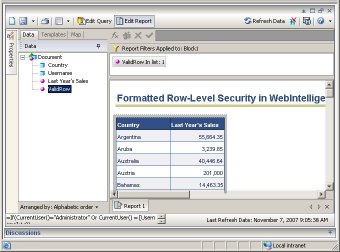 4. Here is what Ron's sees, when he looks at an historical instance of the WebIntelligence report.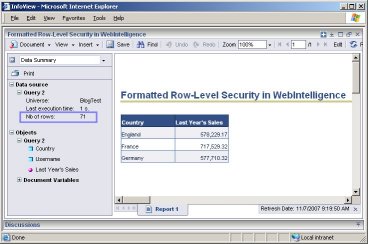 Notice that the Data Summary on the left hand side shows me that there were 71 records but even so, the restricted user ron is only allowed to 3 of the 71.
The beauty of this is that when I look at this data via BusinessObjects LiveOffice, I will see exactly the same restrictions enforced.
REMEMBER: Normally if you need row-level security, then just apply it to the universe. IF, however, you need row-level security on historical instances without requiring them to be refreshed, then use this great trick.