Domain Registry of America Renewal Notice – Watch out!
My wife grabbed the mail today and brought to my attention an important expiration notice from the Domain Registry of America. These guys are incredulous. Here they are trying to act like a reputable company and try and trick people into sending them money for no reason. People – you can renew or subscription to your domain withou the Domain Registry of America!. I immediately googled this Domain Registry of America and found that it was referenced in a number of other blogs.
Here is the low-down. If you have your own domains like I do, they get your contact information from your registrar and then send you these letters that make it look like your domain is able to expire. Here is my letter.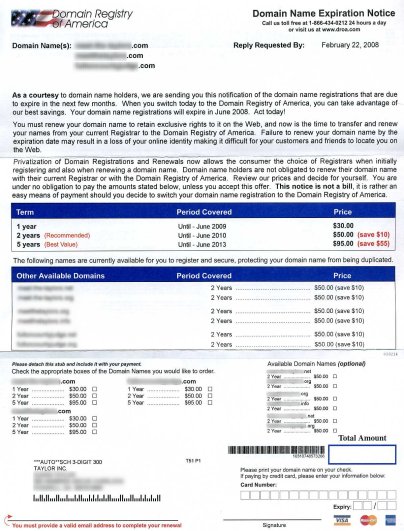 At the top of the letter it makes it very clear that it is a expiration notice and no one wants to get one of those right? So what exactly is expiring. Well, they tell me that my domain names are about to expire. This is bogus. They are trying to get me to fork over money for something I don't need. My registrar already notifies me when my reserved domain name is about to expire. This company is NOT affiliated with your domain manager.
Notice this in the header of the letter:

Pretty scary, huh!
After reading a couple of other blogs, I found indeed the address on my letter goes to a Mailboxes, Etc address! Yep, The address listed on my letter said, Domain Registry of America, 2316 Delaware Avenue #266, Buffalo, New York, 14216-2687. This is the address of a Mailboxes location!
In fact, I found one thing quite funny the more research I did the more I got turned off by these guys. Check out this threating letter that one blogger received from these guys.
Some people are asking… who will stop these guys?
What You Should Do
First of all, don't pay this company (or any other company that sends you a renewal notice) unless you want to transfer your domain name from your current provider to them! If you pay them, the fine print gives them permission to transfer your domain name from our existing service to theirs.
Secondly, pass this warning on to your accounting department or person who normally pays your invoices, to make sure they aren't taken in by it.
Finally, you should file a complaint with the FTC to inform them that Domain Registry of America is still engaging in illegal trading practices — they can't take action unless people who receive the notices complain. You can file a complaint online by clicking this link.