WebIntelligence Integration with SAP
After attempting to move my blog off wordpress.com on Friday, I decided it was going to be more involved and I had a bit more testing to do before I was willing to make the final switch… but that's another story.
So what do I have for you this week?  Well, I ran across a great demo by Ingo Hilgefort.  Ingo is a great resource.  He was one of the original folks that helped Crystal Decisions develop the SAP Integration Kit way back in the day and you can read more about him on his blog.  He's what you would call the resident expert.  Last week a saw a demo that Ingo put together and I really liked it and wanted to share it here.
Watch the Demonstration
Excellent Overview of SAP BusinessObjects and WebIntelligence Integration: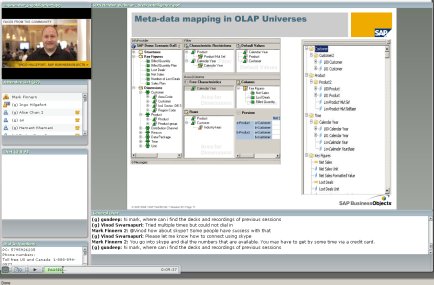 You'll see that he demonstrates some of the latest fold/unfold capabilities that come with BusinessObjects XI 3.1 SP2. Do recognize that is is NOT a replacement for the upcoming Pioneer release. I recently spoke with a customer who didn't like the fact that the WebIntelligence document had to be in a specific layout/format in order to leverage fold/unfold. REMEMBER! WebIntelligence is an adhoc reporting solution that allows you to easily create formatted reports. It's not targeted for power analysts. Pioneer is coming… in the meantime you'll still need to use BEx Web Analyzer for that that power analyst group.
NOTE: for the latest roadmap updates on the SAP BusinessObjects Product Integration go to http://sdn.sap.com
Download the PPT
Here is a download of his powerpoint presentation in PDF format:
http://trustedbi.com/files/sapwebi_webinar.pdf
Note the slides that explain how the items for the BEx Query panel are translated to objects within the Universe.  It's important to understand what objects will be exposed to the adhoc user as the build the report and which objects, e.g. characteristic restrictions, won't be.
Make sure as well you get your hands on the SAP BusinessObjects Best Practices Guide as well.
«Good BI»