Where Are You Coming From?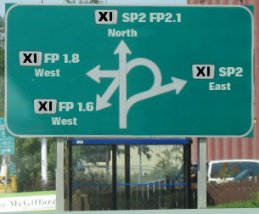 Have you ever been confused by directions or road signs?  Sometimes information doesn't bring clarity.  Hopefully this blog will bring some clarify to potential issues you might encounter in your upgrade to SP2.  I can't believe this is my 4th post about the subject.
Issues When Moving From Fix Pack 1.6+ to SP2
I made the move to SP2 several weeks ago from XI 3.1 FP 1.3, but what I have since discovered is that not everyone's journey has been so straight forward.  If a BusinessObjects system was using XI 3.1 FP 1.6 or later, then you may run into issues after you upgrade to SP2.
It seems that at the time SP2 was being built, all the fixes up to FP 1.5 were included; however there have been a number of additional FixPack releases SAP BusinessObjects XI 3.1 since then.  SAP has released Fix Pack 1.6, 1.7 and 1.8.  These three releases included DLLs that were newer than the DLLs in the SP2 release because they contained fixes that were not originally in SP2.  If this is the case for you will want to move to Fix Pack 2.1 immediately.
What happened?
What I've discovered is that due to the desire to keep the size of Service Packs as small as possible, the service pack does not overwrite all the DLLs on the system.  Instead, the service packs looks at your system and only replaces those DLLs which are older than the DLLs within your BusinessObjects XI 3.1 environment.  This means that if you upgraded to FP 1.6, 1.7 or 1.8, some DLLs will be newer than the DLLs contained within SP2.  This can introduce incompatibilities.
For example, if you use WebIntelligence, you may notice that after sometime the WebIntelligence Server stops functioning and you get the following message when opening a WebIntelligence document:
The Good News
The Good News is that engineering has already identified this issue and has fixed it through the release of Fix Pack 2.1.  If you read the release notes of Fix Pack 2.1, you will see the following:
BusinessObjects XI 3.1 and Crystal Reports 2008 Service Pack 2 Fixed Issues
This Service Pack can only be applied on top of BusinessObjects
Enterprise XI 3.1 / Crystal Reports 2008 SP1. This Service Pack
includes all XI 3.1 FixPacks up to 1.5. Note If you install XI 3.1
SP2 in top of FixPack 1.6 or later, reinstall the latest 2.x FixPack.
Each machine in your deployment must be updated separately with
the patches you require. A separate patch is available for each
BusinessObjects product that has a standalone installation.

There it is.  Tucked into the release notes of Fix Pack 2.1 it explains that if you are on a later fix pack, you need to install Fix Pack 2.1.  I would welcome your suggestions to pass on to the BusinessObjects engineering team of ways to avoid this in the future.
«Good BI»