SAP, Sustainability and Dashboards

In the wake of the gulf crisis, I thought it would be a good idea to show you some of the ways companies like SAP are taking sustainability seriously.  If you've not had a chance yet, check out the 2009 Sustainability Report on the SAP website.  Here is a quick look at the performance scorecard across the Environmental, Social and Economic indicators.

Today there are no standards for reporting sustainability as there are in areas like financial performance, but I think that SAP's website represents a standout example of how to communicate this information.
What's To Like
There are a number of key items that I like about the website.
Interactivity – the report allows readers to interact with its performance data through embedded analytics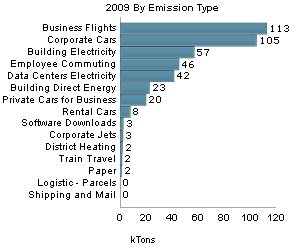 The report also features the latest Sustainability Map which helps stakeholders understand how SAP solutions help line-of-business managers deliver on the business case for sustainability. In short, it's designed to enhance our leadership in sustainability and to collect feedback, ideas and criticism from stakeholders in an open manner.
Pretty cool, eh?
If you'd rather have a guided tour of the solution, there is a 5 minute video you can watch at:
http://sapsustainabilityreport.com/tour.php
Are You thinking about Sustainability?
Sustainability should be an important topic for everyone, but especially to executives.  More than ever, shareholders are demanding that organizations in every sector have a sustainability strategy.  Here are some of the top issues executives want to know how to:
Introduce safe and eco-friendly products and avoid non-compliance to protect my revenue and brand?
Develop product compliant with safety and environmental regulations without increasing cost or time to market?
Ensure manufacturing and distribution meets product safety, compliance and traceability requirements?
Report compliance throughout the full lifecycle of our products, including end-of-life?
These are all important questions that SAP can help answer.  Consider sustainability among your top 2011 initiatives… who knows what's going to happen to energy prices and government regulations and oversight given the disaster by BP and Transocean in the Gulf.
BTW, if you haven't seen the amazing 60 Minutes expose on the disaster, you might want to check it out:
Part 1: http://www.cbsnews.com/video/watch/?id=6490348n
Part 2: http://www.cbsnews.com/video/watch/?id=6490378n

«Good BI»