Who's the Greatest?
Who's the Greatest?  Muhammad Ali… but who decides who's the greatest?  Just because I say so?
Analysts Unite!
When it comes to software, customers often want to know what the experts say, because they are the only ones who are seen as being truly independent.
Today I received a call from a customer asking me for information comparing SAP BusinessObjects with other popular, world-class, enterprise Business Intelligence Platforms and I told him there weren't any.  Just Kidding!
After some information comparing our Business Intelligence offering with the competition and emailing it off, I remembered a brilliant cartoon.  We often take quotes from analysts like Forrester, IDC, Gartner, BI Scorecard, BI Survey and others and include them in our customer presentations.  Here's a recent post I did on some of  Forrester's comments:
http://www.trustedbi.com/2010/10/28/forrester-gives-businessobjects-top-marks/
Amongst our customers however, Gartner seems to be the most recognized Analyst organization.  I'm not sure if it's because Howard Dresner has been credited with coining the term, Business Intelligence, or not.
Gartner Magic Quadrant for Dummies – Geek&Poke
What I do know is that just about everyone is familiar with Gartner's 4 quadrant view of any areas they are analyzing, which is why I couldn't stop laughing when I came across this brilliant cartoon "Gartner Magic Quadrant for Dummies" by Geek&Poke: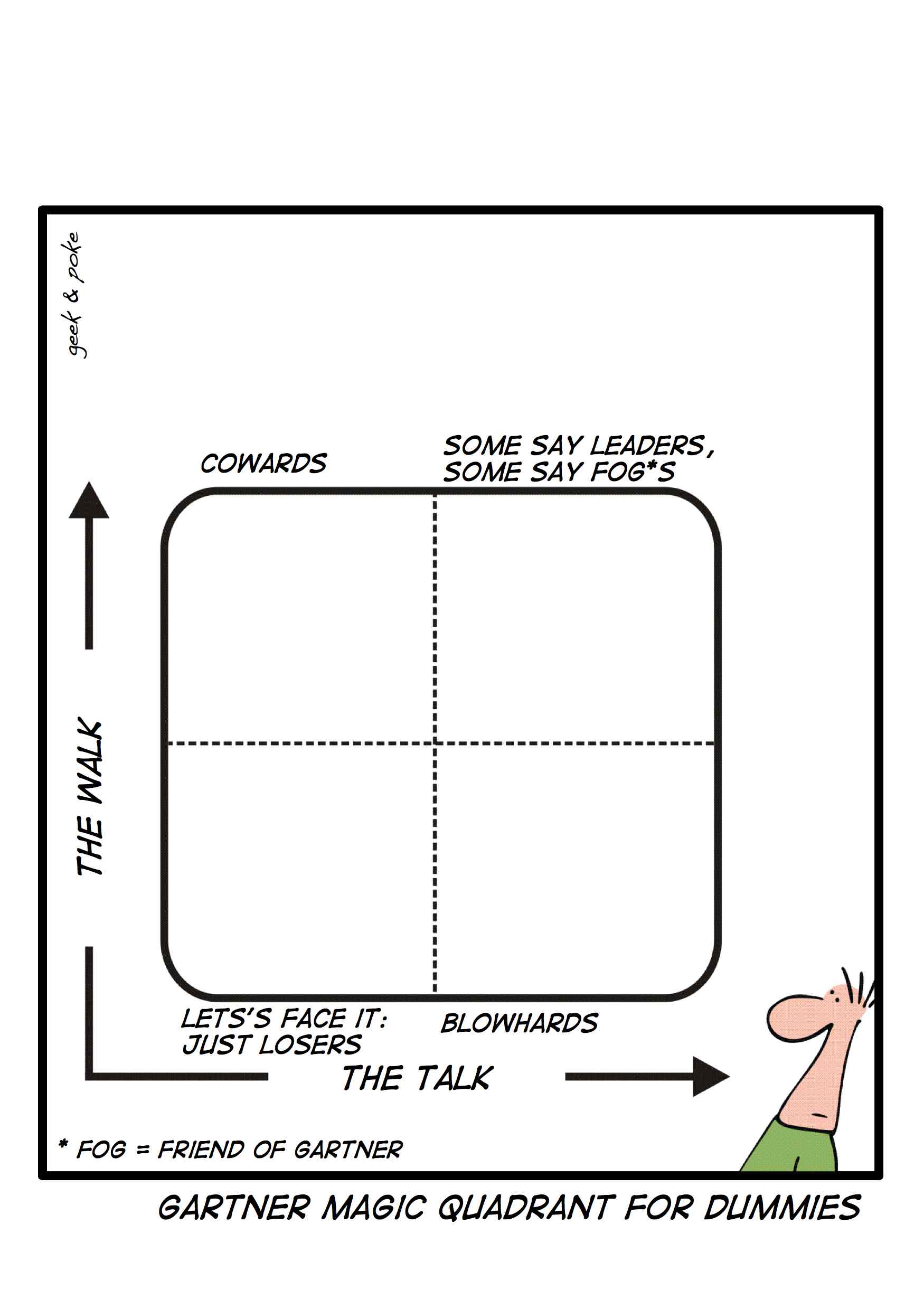 Depending on where your companies products land you either feel like Gartner's Analysts are the smartest guys in the room or you just wish you were a closer FOG.
Here is a link to the original blog post from 2009.
If you have any Geeks in your life think about getting them a Geek&Poke T-shirt for Christmas or the book.
«Good BI»