SAP BusinessObjects v4.0 Nears General Availability
Are you wondering when SAP BusinessObjects v4.0 is going GA?  So does Mico Yuk.   Will it be August 31st?  Maybe.  That's the date currently advertised on Service Marketplace.
SAP BusinessObjects v4.0 GA Date
Mico Yuk recently did an interview with Steve Lucas where she was able to get the answers to 4 burning SAP BusinessObjects 4.0 questions.  If you've not read it, then do.  you can find it here: http://bit.ly/nBxZU3
SAP BusinessObjects v4.0 went into ramp-up in September 2010 and although I think SAP was pretty clear that the ramp-up would last 6-8 months, that timeframe has come and gone.  It is true that there was an early teaser video that announced SAP BusinessObjects v4.0 coming in Q4 2010.    You can watch it below: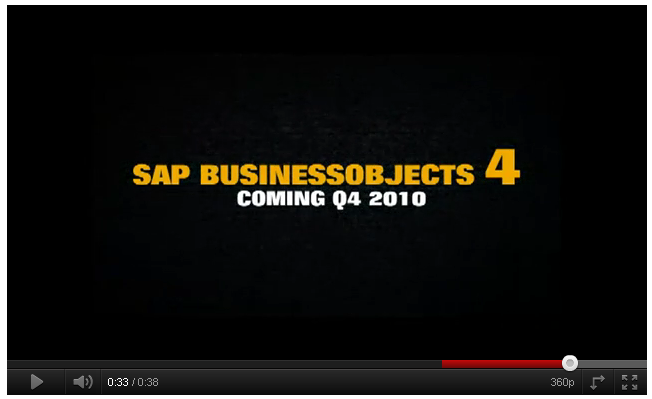 Have You Downloaded v4.0?
If you've not taken the chance to download SAP BusinessObjects v4.0 and begin to play with it you should!  Approximately two months ago, SAP opened up access to the software beyond the ramp-up program and anyone who is interested can download it from Service Marketplace…  There are a lot of new features in this release.
SAP BusinessObjects v4.0 introduces:
New multi-source Semantic Layer
New Charting and Graphing for all products
New Crystal Reports for Enterprise
Tons of new WebIntelligence features
Revamped OLAP Client for the Web
New Xcelsius Direct Binding to the Semantic Layer (no more Excel or QaaWS required)
I know the release is getting close because I've seen significant strides around quality.  The latest pre-release version of SAP BusinessObjects v4.0 is SP02, Patch 4.  (SP = Support Pack).
Although early on in my testing I found a number of problems – especially with WebIntelligence,  the number of issues I've has dropped dramatically as development has continued to roll out new fix packs on an regular basis.
Coming Soon
So, it's pretty clear.  SAP BusinessObjects v4.0 IS coming soon…
«Good BI»