Best of 2011: Lucas Articulates Value of Analytics for Utilities

Back in September, Steve Lucas, Global Senior Executive for Business Analytics, stole the show with a hugely entertaining and well articulated discussion of innovation for Utilities.
REWIND
From beginning to end, Steve Lucas entertains as he communicates why better information is the key to creating real change.
If you are interested in:
Seeing Why BI is a Strategic Enabler for Utilities
Moving from a System of Record to a System of Engagement
Following a path to flawless information execution
This is a great 30 minute keynote for helping communicate what SAP is doing in the Utilities industry.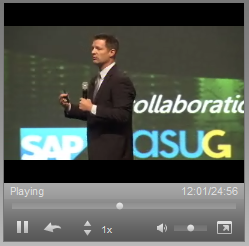 SAP helps utilities run better.
«Good BI»