Earlier this month, I got a chance to see Bill McDermott, SAP CEO on Mad Money with Cramer.  When asked about the markets in Europe, I loved his response:
If you can deliver a solution that gives a leader of company a business outcome,  they can reach their customers better, they can automated their demand-driven supply chain, they can take better care of their people, they can do things better, they will invest.
Absolutely.  I've seen this over and over again.  If you can show value, efficiency gains, cost savings and return on investment, companies will invest.
Here is the whole interview: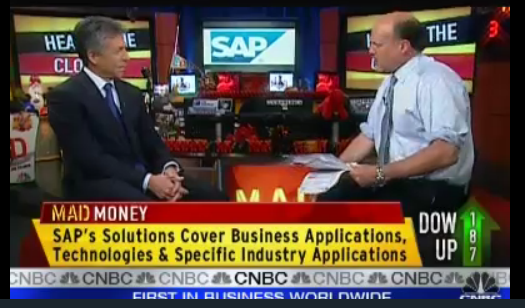 It was cool to see SAP HANA discussed.  The speed increases we are seeing have been amazing.  Here's an extensive, non-technical article about SAP HANA by Bob Evans that appears on the Forbes website:
SAP HANA and the Game Changing Power of Speed
As the year winds down, it's exciting the see what's ahead for SAP.  In particular I'm interested to see what will develop with the acquisition of the Sybase IQ database.  It was the first columnar data store and long time member of the Gartner Magic Quadrant for Data Warehouse Database Management Systems.
Sybase IQ is a very mature product which provides excellent price performance, yet with the emergence of  SAP HANA, which  not only contains a columnar data store, but also runs 100% in-memory.  What does the future hold?
One thing is for sure, the momentum of HANA continues to build and the future of trusted Business Intelligence looks bright.
«Good BI»