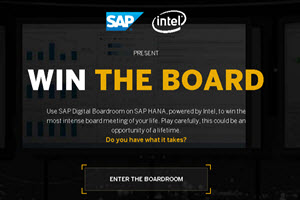 To really understand the WOW factor of the Digital Boardroom you have to see it and experience it… and short of driving to an SAP office or attending an SAP Conference, it's not easily available.  But that's all changed.
Now SAP provides a Digital Boardroom Simulation Experience  and feels and sounds like the next version of the Fallout series. The "best experienced with headphones" is a recommendation I fully endorse.
It's not exactly the same and touching the screen and performing root cause analysis in real-time, but it's close(r)…
If you've not seen it – check it out here!
Do You Have What It Takes?
The narrator asks:  Do you have what it takes to present to the top of the top?  Your Mission – Use the power of SAP Digital Boardroom to answer each board members question.
Do I Have What It Takes?  Sure.  No problem.
The simulator gives you some quick instructions from an intern, then you are asked to pick your board members.  Next you are asked a question from each board member which you will answer by navigating through the Digital Boardroom, but be quick.  The faster you answer the higher your score.

Let's Play
The narrator guides you through the process, so unlike the Fallout series it's pretty clear what you need to do.  The cursor indicates when you are on the correct selection.  If you dilly dally too much, expect to be berated by the board members.  They've got no time for slackers!
One nice feature is that you can play the simulator several times and you are asked different questions from the board members.  This meant that the experience stayed fresh and I was able to investigate different scenarios, which was nice.
Overall I wish the simulator looked more like the reach digital boardroom instead of screenshots, but it does gives you a fun way of having a Digital Boardroom experience.
My Three Takeaways
Takeaway #1 – When you use the Digital Boardroom (for real), it feels like the data is coming alive as you literally manipulate and interact with the data at your fingertips.  The Digital Boardroom three screen, touch screen concept is a revolutionary concept that works. It is very ambitious and very cool.
Takeaway #2 – Many companies have 3 or 4 people working for 3-4 days to pull together their executive briefings for board meetings.  This is old thinking. Being a digital business demands that you move to real-time insight from the shop floor to the board room.
Takeaway #3 – There are no shortcuts.  The Digital Boardroom is not a magic bullet.  Anyone who has deployed analytic solutions knows that a lot goes into architecting a data governance and management strategy that provides a real-time, single version of the truth experience.  It's not easy, but no pain, no gain.  Companies who make these types of strategic investments will be rewarded with the ability to make better decisions faster, responding more quickly than their competitors to changing market conditions.
SAP Digital Boardroom is a next-generation digital solution that contextualizes the boardroom experience across people, places, and devices into a real-time enterprise experience. The goal is to provide transparency, data-driven insights, and simplified boardroom processes. It can enable companies to visualize insights in context, and align on one source of truth, while analyzing root causes, and even potentially simulating the impact of decisions.
Additional Resources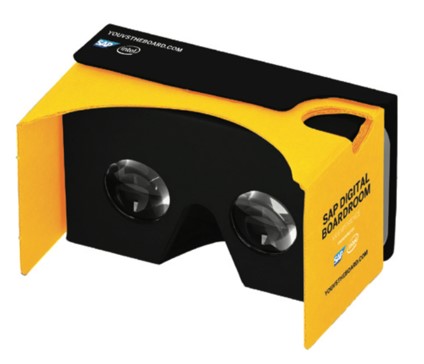 I don't know about you, but I really like how SAP is making engagement with the Digital Boardroom fun.  If you have access to a VR headset, there is also an SAP Digital Boardroom VR Experience.  Although it's little more than an informational video it is fun.
Finally, it was interesting to see that in SAP's recent Run Live commercials, the Digital Boardroom feature prominently at the center of the "decision making" conversation.  It's no surprise.  Everybody knows analytics rule!!
Run Live with SAP – Motorcycle – "Dial it back.", "Yeah, dial it back"
Run Live with SAP – Karate – "What do we have on aerial karate?"  I love that!
«Good BI»