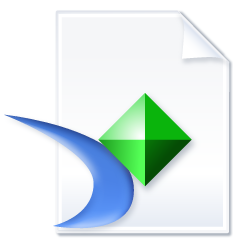 So has everyone see the new interface for Crystal Reports?  If not, you're missing out.  SAP BusinessObjects v4.0 includes a brand new version of Crystal Reports called, Crystal Reports for Enterprise.  This version of Crystal is new in BusinessObjects v4.0 introduces the new tabbed user interface which has been rolled out to all the client tools.
Crystal Reports 2011 and Crystal Reports for Enterprise are both available in BusinessObjects v4.0.
You may be asking:  What is the difference between Crystal Reports 2011 and Crystal Reports for Enterprise?  That's a great question.
In short, Crystal Reports 2011 is the legacy Crystal Reports 2008 with a few new features.  Crystal Reports for Enterprise is the future of Crystal Reports… and here' s why it makes sense to have two versions.
The Crystal Reports development team wanted to make sure there was absolutely zero disruption to the use of existing Crystal Reports.   Customers are always #1.  It's all about allowing customers customers and partners to continue to leverage their Crystal Reports investments, while at the same time laying out a future direction for the product.   Those 1B+ Crystal Reports need to keep running.
The new, future direction means delivering the best possible connectivity to the new semantic layer in SAP BusinessObjects v4.0, together will a new charting engine and much, much more.  As a result, they also released the distinct, next generation version of Crystal Reports called, Crystal Reports for Enterprise.
Version Comparison
Crystal Reports 2011 – All legacy Crystal reports 2008 functionality with read-only report format (.rptr), export to Excel workbook data only (.xlsx), integration with Visual Studio 2010 and integration for WPF apps.
Crystal Reports for Enterprise – Next generation Crystal Reports Designer with streamlined user interface, new charting engine, updated report design, connectivity to the new semantic layer (unx), platform driven alerts and 64-bit processing on the server (although the designer is still native 32-bit).
NOTE:  For all new features please see the
release notes.
Result – This gives customers the best of both worlds.  Both versions of Crystal Reports can run side-by-side on the same desktop client.  The associated processing servers and job servers can also run side-by-side on the same server.  Zero disruptions – tons of new capabilities.
Configuring Crystal Report for Enterprise
The biggest challenge I ran into when first using Crystal Reports for Enterprise was getting connected to my CMS.  I had no idea how to configure my server connections.
1.  When you start Crystal Reports for Enterprise you will see this: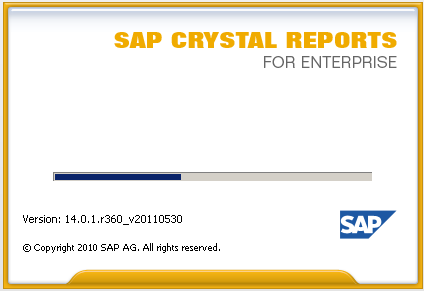 2.  Next you will need to connect to your BusinessObjects Enterprise repository (to access the semantic layer).  Choose File -> Log On to SAP BusinessObjects Enterprise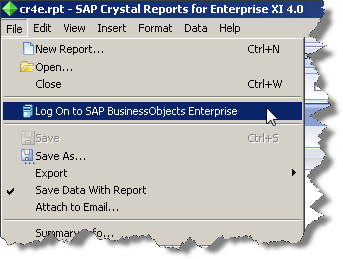 3.  You can save connections to multiple repositories.  Lets configure the first server connection by clicking on the box to the right of the Server Connections field.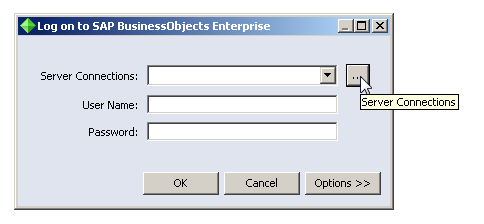 4.  Enter in the following fields.  Note that the Server Context must be entered as /dswsbobje.  After entering the fields, make sure you can test the connection.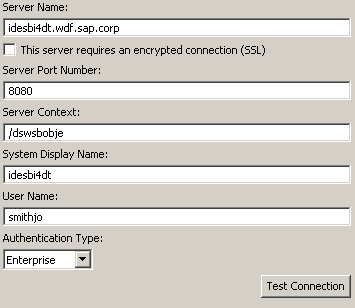 If you have a proxy server in play, make sure that this is configured correctly in Internet Explorer.  Crystal Reports for Enterprise will leverage this configuration when attempting to talk to the server.
5.  After entering the fields you should see an entry similar to the following screen:
6.  You should now be able to connect to your repository and begin building content off any of the new UNX semantic layer definitions you have created.  Make sure and play with the new charting engine and report layout controls.  See how much easier it is to drag, drop and align fields onto the workspace.
Future of Two Crystal Reports Versions
More good news.  Within a relatively short time frame, the Crystal Reports teams plans to bring all the capabilities on the classic Crystal Reports 2008/2011 version into Crystal Reports for Enterprise.  So I don't expect we will have two versions of Crystal Reports for very long.  Here are a list of some of the things that are NOT in the initial release of Crystal Reports for Enterprise v4.0:
No direct data support (ODBC/JDBC, etc)
No direct OLAP support (other than BEx Queries)
No Live Office support
No Enterprise Search
API/SDK Gaps
These are all the major things that will need to be added before Crystal Reports for Enterprise becoming the only version of Crystal Reports in the BusinessObjects Suite.
P.S.  I love the new abbreviation for Crystal Reports for Enterprise, it's cr4e.   Very Cute.
«Good BI»