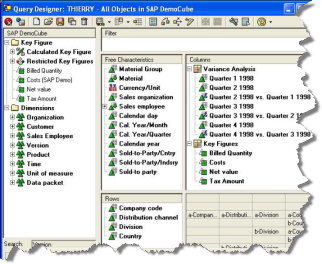 Now that SAP has clearly and unambiguously stated that BusinessObjects is the new face of BI for SAP, we have many customers who want more information about connectivity with SAP and are surprised when we recommend that they connect to an existing BW Query instead of to the entire Infocube.
Why is connecting to SAP BI/BW Queries a best practice?
There are several reasons for connecting via SAP BW Queries:
Performance – The BW OLAP Engine performs its processing against the query cube. In the event, you connect an external analysis tool directly to an InfoCube, a query cube consisting of all the characteristics and key figures in that InfoCube is generated on the fly in order to handle the request processing. This process adds significantly to the processing time of the request made by the end-user when compared to reporting against a pre-defined BW Query.
Capabilities – There are several capabilities exposed via the interface to BW Queries that are not exposed when connecting directly to the cube such as calculated and restricted key figures to name a few.
Flexibility – The BW Query Designer offers an extension to the data modeling environment in which changes are relatively easy to make as compared to the effort required to change an InfoCube.
Is this required across all the reporting tools? (WebI, Voyager, Crystal Reports)
Its mostly applicable to WebI and Voyager. There's more flexibility with Crystal since it has more connectivity interfaces to SAP and it is not designed to be an ad-hoc reporting and analysis tool. Xcelsius will typically be built against scheduled content since most dashboard data is usually only updated every 24 hours.
What are the advantages and disadvantages of this different approaches to SAP Connectivity?
Advantages of BW Query – The BW Query can take advantage of Query capabilities such as CKF and RKF. The BI Team can also provide better control over how much data user can request.
Advantages of InfoCube – The BI Team can expose entire dataset to user without additional work from BI team
Disadvantages of BW Query – Using BW Queries requires additional work from BI team to setup queries specifically around areas of the business, e.g. marketing, sales, etc. It limits amount of information available to user for a given query. That being said, the adhoc report designer can combine multiple queries within a single report. In addition a well defined BW Query can serve as the data sources for multiple reports. (whereas traditionally in SAP BW, we saw 1 query = 1 report)
Disadvantages of InfoCube -Users can get lost in the large amount of data available to them. There is a lack of CKF and RKF, which will lead to users creating more filters and calculations at the report level. These efforts will likely be duplicated across multiple reports. Duplication leads to duplicate work and the potential for different answers based on different formulas (i.e., no "single source of the truth" for those formulas)
Performance of BW Query – Better. Because of the constraint on information available to the end-user, the query design can test a subset of data and guarantee a certain level of performance.
Performance of InfoCube – Vulnerable. Because the entire cube is visible, there is no what to know what combinations of information the user might pick. Without specific controls over the type and amount of data returned, it is impossible to determine who long the query might run.
Flexibility of BW Query – The BW Query is more flexibility in regards to exposing "processed" data (CKF and RKF). It also provides flexibility when it comes to making changes to underlying data because not every change to the InfoCube will impact a BW Query.
Flexibility of InfoCube – The Infocube is the most flexible with regards to the data exposed.
What data structures in SAP are supported within BusinessObjects?
WebIntelligence/Voyager supports: Standard and Transactional InfoCubes, Remote InfoCube (not recommended due to performance), MultiCube, MultiProvider.
Crystal Reports supports: Standard and Transactional InfoCubes, Remote InfoCube (not recommended due to performance), MultiCube, MultiProvider, ODS, R/3 Infosets, ABAP Queries, ABAP Functions. ABAP Data Clusters, Transparent Tables, Pool Tables, Cluster Tables, zTables, InfoViews
Conclusion
It's been exciting to see how quickly SAP customers have been able to unlock the data that they have in their Business Warehouse to a whole new groups of users.  Users can now create their own reports from scratch using the WebIntelligence interface.  Executive users and front-line contributors can have their personalized data delivered directly to the desktop.
I can't wait to see what will unfold within our next generation of tools.