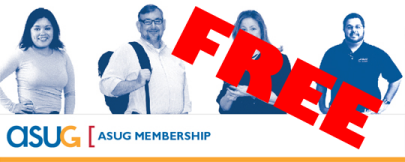 ASUG is offering a complimentary membership for North American customers and partners of the SAP BusinessObjects solution portfolio who operate in a non-ERP data environment. Whether you used to be a member of Global BusinessObjects Network (GBN) or not, you can now apply for membership.
At first, I didn't like the idea of SAP charging customer for a user group, but now that I've been able to explore all the vast resources available on the website and see how easy it is to connect with other SIGs and people in an industry, I see it as a truly invaluable resource.   There are regular webinars on every conceivable topic and all webinars are archived in case you miss them.
Complimentary ASUG Membership Process
Take immediate advantage of your complimentary ASUG membership:
Click here to get the application started

Search for your company and complete an individual login application. If you do not see your company name just complete a corporate application for your organization to receive the complimentary  membership here.
If you are an SAP BusinessObjects partner, you will need to contact ASUG here and they will assist you through the application process.
Are You An Influencer?
View this special video invitation from ASUG CEO, Bridgette Chambers, to the inaugural ASUG Influencer Summit for SAP BusinessObjects customers. Nominate yourself or another Influencer in the community and join us to help shape the future direction of the communities that support SAP BusinessObjects customers. Nominations will be accepted through September 15, 2010. The Summit will be held on Monday, Oct. 4 from 1-6 p.m. at the Walt Disney World Swan and Dolphin Resort in Orlando, the day before the SAP BusinessObjects User Conference starts.

ASUG Members Get User Conference Discount
After you join ASUG, you can also get additional discounts on the SAP BusinessObjects User Conference.   View the agenda here.  It's full on BusinessObjects from start to finish.
«Good BI»
Podcast: Play in new window | Download