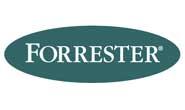 I launched a tweet or two about the latest Forrester Report.  In case you haven't read it, I quoted a few of the best nuggets.
The Leader of the Pack
SAP led the pack because of the completeness of not just BI,
but overall information management functionality.
I love that about BusinessObjects.  It's the classic garbage in, garbage out.  It doesn't matter how pretty your reports are, if the underlying data infrastructure in creaking under a poorly maintained data warehouse with hand-coded ETL logic and data quality problems.  Information Management is key!
SAP BusinessObjects continues to steamroll with innovative
products like Explorer and in-memory analytical appliance –
Business Warehouse Accelerator.  When you're looking for the
top report writer, look no further than Crystal [Reports],
which is probably OEMed and embedded in more applications
than any other commercial BI tool.
Have you tried out Explorer yet?  You can try it for free on http://create.ondemand.com.  You can upload a spreadsheet and take it for a spin.  I'd be interested to hear what you think about it.
Xcelsius remains popular with many executives because
they can take the self-contained Flash files, which
combine dashboard application and data, on the road
and use it on laptops in a disconnected mode – even
without SAP software installed on that machine.
I had a customer ask me the other day if we are still committed to flash.  Well, considering Xcelsius 2008 was a complete rewrite into native Adobe Flex, I think we are pretty committed.  I hope that Apple and Adobe can get their differences sorted out.  I want my Xcelsius dashboards on my iPhone.  That said, Xcelsius is a flash-generator.  I'm sure the SAP engineers could quickly turn it into an HTML5 generator if they needed to.  Bottom line?  Your investment is safe.
And last but not least, [SAP NetWeaver] Business Warehouse
Accelerator appliance combines the flexibility of columnar
and inverted index databases with the speed of in-memory
database to provide a unique and powerful DBMS optimized
for BI.
As a BI Guy, I've never been all that interested in databases.  You plug them in and they work… but this new breed of analytic databases is a game changer.
Additionally, SAP leads the large vendor pack in self-
service BI SaaS offerings.
I keep wondering where this SaaS offering is going to go in the future.  There is huge potential behind it, but very few organizations seem to be doing it well.  Saleforce.com is the standout exception.  Considering crystalreports.com was launched in 2006, we've learned a lot since them.  Most organizations I work with want on premise solutions, but if you are a small business, you might want to have a look.  It's very inexpensively month-to-month and considering the cloud integration of the Information Management solutions, it's much easier to access corporate data in the cloud.
Best Is Yet To Come
… the best news of all?  They haven't even seen BusinessObjects 4.0 yet!  Roll on December 2010!!
«Good BI»