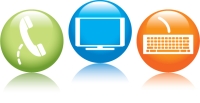 I know that most of you come to my blog to read about Business Intelligence, but I just had to share the fantastic experience that I just had signing up for new TV, Internet and telephone service.
Background
For the last 12 months I've been trying to figure out what to do about my Internet costs.  I was spending way too much but I just couldn't find the right replacement package.  I kept running the numbers and it seemed seem that I would be able to save all the much more money.
Before the switch I was paying for:
Dish Network:
Theater Room:  Dish Network HD DVR (with two tuners)
Bedroom:  Dish Network DVR
Spare Bedroom:  Standard Receiver
Play Room:  Standard Receiver
Total:  $143.58 (but I won't count the extra $15 for Fox Soccer Plus)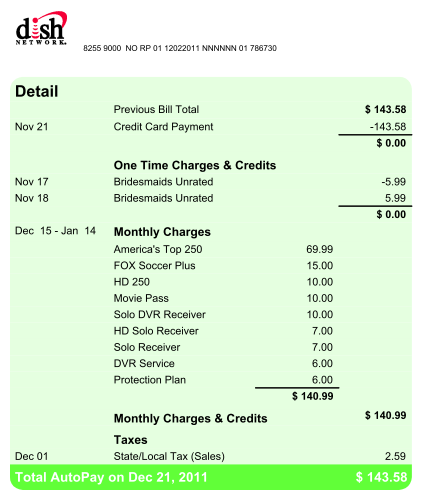 Bellsouth:
Standard Phone Line
DSL Internet  (3 Mbps)
Total:  $89.00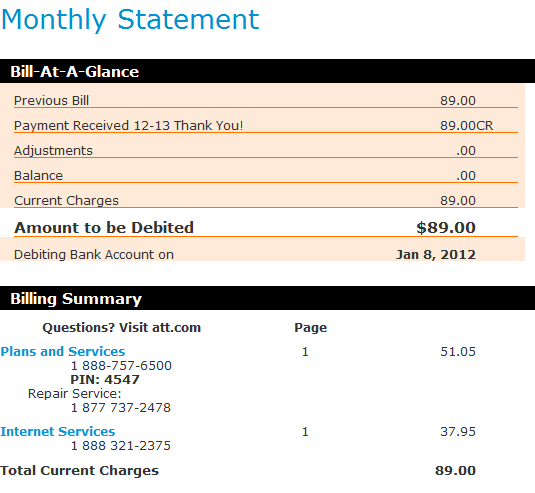 Bigredwire.com
Long Distance (we call England regularly)
Total:  About $20 month
That means all together I was paying about $252.58 per month!  Crazy right?
My Experience with Dish Network

First I have to say that there was a lot I liked about Dish Network.
I really liked the quality of service, the choice of both Fox Soccer and Fox Soccer Plus and especially the DVR's ability to quickly jump through the commercials.  The control you have over the TV watching experience is great.  FF jumps 30 seconds forward and REW jumps 10 seconds back.  Instantly!!  I haven't found anyone else to do that. (U-verse is pretty slow in comparison.)
My favorite feature, which no other provider can match is the ability to do slow motion.  We watch a lot of soccer and in many situations there isn't time for the broadcaster to provide sufficient replays or slow motion.  No problem.  With Dish Network you can go as slow as a DVD at 1/16 speed or as fast as 300x speed.  It's great and the remote is super easy to use.
The few things that frustrated me about Dish Network were pretty standard complaints.  I was loosing the signal when it rained really hard or if there was severe bad weather.  About once every 18-24 months, the dish on the roof would come loose and the signal quality would degrade to the point of needing someone to come out and adjust it.
I liked Dish so much I was with them 8 years, but  I had seen my bill grow little by little.  I believe at the start it was about $80/month to $143.  Something had to change.
Discovering Ooma

I did a little research on Consumer Reports and discovered that they recommended Ooma if you were interested in VoIP.  I had always been intrigued by VoIP technology and "free phone calls" but the huge growth in services like Vonage and the subsequent poor call quality, I wanted to make sure it was right.
After a lot of research, I was convinced that Ooma could provide me exactly what I wanted:  Unlimited free long distance and a great international plan.  I also needed to be able to keep my number.  I mean, after having the same home phone number for 20 years, who wants to get a  new one?
I had seen Ooma devices at my local Costco, but I wondered if I could get the unit somewhere cheaper.  The hardware was $199.99 on sale.  (Good news is that the prices keep coming down.)
Selecting a Bundle Provider
For me, this decision was pretty simple.  Since I knew I wanted to use Ooma for phone service. Charter Communications is the only cable operator in my area and they have a very poor reputation.  Consumer Reports recommended U-verse or Fios, but only U-verse serviced my area, so what could I get?
I was pleasantly surprised.
Although I was already using BellSouth for telephone and Internet, AT&T treated me like a new customer, so I was able to get an amazing bundle deal, which – even after the introductory rate will be very reasonable.  I didn't cancel my phone initially because I needed to make sure that I would be able to port it over to Ooma once I got that sorted out.
Best of all I was able to visit my friendly neighborhood AT&T store which made shopping and selecting my service options that much easier.  Nice job AT&T.
U-Verse Installation

The U-Verse installation was pretty straight-forward.  I had an amazing engineer, Alex, who come out to my house and surveyed the situation.  Originally he wanted to run a CAT-5 wire around my house, but I was very much against that idea.  After talking about it for about 30-45 minutes Alex agreed to try and use the existing CAT-3 phone wiring I had in my house.  Although it wasn't "officially" supported, he was willing check the phone outlets and if necessary adjust the wiring so that there was a direct, uninterrupted connect from the U-verse box to the phone jack in my office.
It was amazing.  Fortunately my house was wired such that no "rewiring" had to be done.  It just worked the first time.  Once the Internet was up, Alex installed the three TVs. When I told the engineer I was planning on installing Ooma, a VoIP solution, we also went ahead and preconfigured my phone jack in the office for two plugs one for the inbound Internet from the AT&T U-verse router and the other for the outbound dial-tone that Ooma would send through the phone line to all my phones.  Brilliant!
Because I previously had Dish, it took Alex a little longer than expected to finish wiring all the TVs, but after about 5 hours, the job was done.
It was interesting to see the difference between Dish Network engineers (contractors who don't work for Dish but do all the local service) and the U-verse engineers.  Although I never had a "bad" Dish engineer, the AT&T engineer provided a consistently superior customer experience.
Ooma Purchase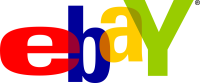 As I mentioned I was looking for a cheaper alternative to Ooma, so I went to eBay.  It's getting harder and harder to find good deals on eBay with so many items with high reserves or Buy Now prices.  With that said, I set up a search and monitored Ooma Telo devices that were selling.  I found that many were going for near their retail price, but eventually I found the one I wanted.  I found a used Ooma Telo which was being sold used and would require $60 for reactivation according to the listing.
My final purchase price was $71 + $11.70 shipping.  The activation ended up being $79.99, which means I was able to get the necessary hardware and activation for only:  $162.69 (vs. $214 for a new one with tax).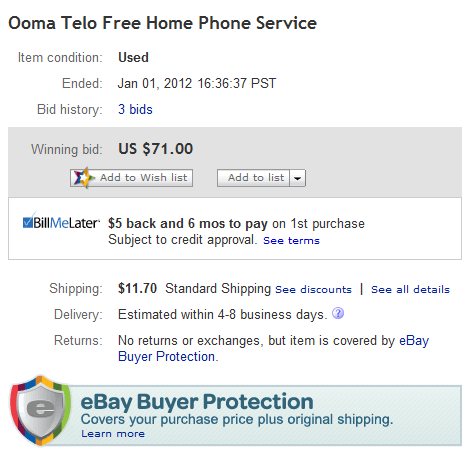 Ooma Installation
You can't get much simpler.
I unpackaged my Ooma device, plugged it into the Internet and then followed the online instructions.  At first, the Ooma service didn't understand my product's activation code, but that was only because it was a used device.  After paying the $79.99 activation fee, I was good to go.
During the installation I selected a "new" phone number and hooked up a spare telephone.  I was able to make calls.
Now I had two phone numbers — my legacy home phone number from AT&T and my new Ooma number.
Ooma Phone Porting
As I said before I didn't want to give up my old number, so I paid on additional $39.99 and filled out all the paperwork online.  Ooma even had me include a copy of a past bill to try and expedite the process.  Although they warned me that the process could take up to 4 weeks, I was amazed at how quickly they got it done.  5 days!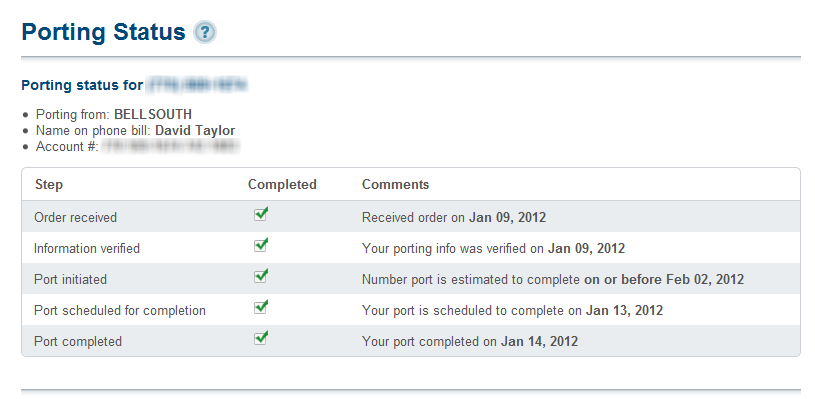 I knew my porting was underway because the website provides regular updates as to the process.  I knew it was almost done when for about 2 hours during one afternoon, when I picked up my phone, the line was dead.  I took the opportunity to plug my Ooma telephone signal into the plug the AT&T engineer had provided and presto, we were good to go.
During a brief two hour window I did have a few people try and call and they got the message, This number has been disconnected or is no longer is service, but that was a very minor inconvenience considering I was able to keep my home phone number from the last 15 years!
So How Much Am I $aving?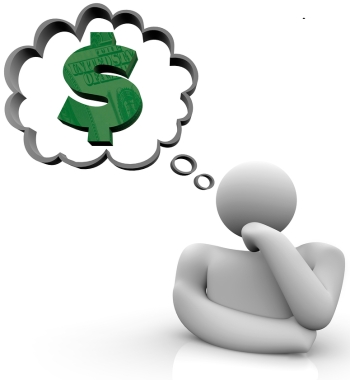 Great question!  I'm saving a bundle!
Here are my one-time charges (credits)
U-verse TV:  Free Installation
U-verse Internet: Free Installation
U-verse New Customer Credit: ($100.00)
Ooma Telo: $162.69
Ooma Number porting:  $39.99
Shipping back Dish Network Equipment:  $45  (this was Dish's final insult)
Here is my total monthly charges:
U-verse U-300:  $108.00  ($73.00 first 6 months)
U-verse Internet Up to 12 Mbps:  $52.00  ($34 for first 6 months)
Ooma Basic Service: $3.47 + about $10 for international calls.
Not only am I saving money but a got a HUGE upgrade in services.  My Internet is now blazing, phone service has amazing perks and I haven't had a single blip in service in the last five months.
That means that after 12 months I will have saved a total of: $1035.46 and in two years I'll have saved $1804.78!  That's enough to fly to England and see a football game live!
In case you'd like to know how much you can save feel free to use the $AVE A BUNDLE calculated I created used SAP BusinessObjects Dashboards!
[swf src="http://www.trustedbi.com/images/blog/misc/saveabundle.swf" width=600 height=431]
To access this dashboard and associated source files, download them here:
http://www.trustedbi.com/files/SaveABundle.zip
The bottom line is ROI. What is your return on investment. As we talk with customers about HANA and the new opportunities it brings to the business, we always have to go back to ROI. Every investment needs a payback.
«Good BI»