Yesterday, many SAP BusinessObjects customers, mentors, partners and even a few competitors listened in as Steve Lucas as he unveiled SAP's bold, new analytics strategy.  The twittersphere as active as tweets were tracked using #allaccessanalytics, we had a lot of fun.  Zimkhita Buwa quipped:

Steve emphasized that SAP isn't delivering a 'mission accomplished' banner.  It's just a 'mission' banner.  "Where we are and where we are going."  There is a bunch still to come…  One of the first bold things he did announce was that the personal edition of SAP Lumira is free and you can download it now.  In addition you can also register for free access to the SAP Lumira Cloud.  You can register for free here.
New Mindset
It was clear to hear Steve's passion for analytics.  His passion goes way, way back… and is always welcome.  In fact, I think this is an old picture of Steve's car back in 2003.
He talked about BusinessObjects founder Bernard Liautaud and the rich legacy from which this SAP BusinessObjects BI Suite comes.  Steve took a note from Visha Sikka to say that SAP is and will innovate and that the Innovator's Dilemma is crap.  Customers will continue to see great new innovations from SAP.
The new mindset from SAP delivers three pillars:
Enterprise Business Intelligence – For the Entire Organization
Agile Visualization – For the Business
Advanced Analytics – Data Science for Everyone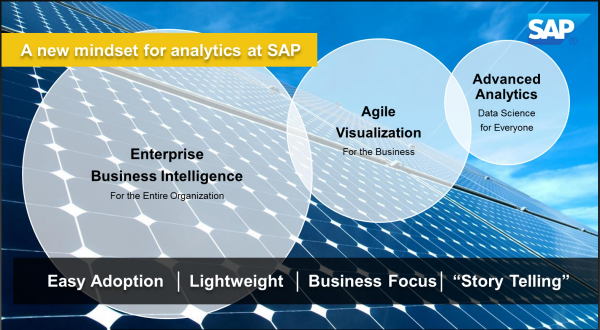 Enterprise Business Intelligence
With 60,000 customers, SAP continues to have to largest market share within the Business Intelligence space.  SAP BusinessObjects didn't invent Business Intelligence but our experience in the space is very rich… and if not SAP BusinessObjects then who?  SAP is going to continue to build out capabilities for the Enterprise organization.  This is squarely focused on our SAP BusinessObjects product line.
At the same time the market has shifted and everyday business users want to be able to connect to their data quickly and easily and get new insights and share those insights with colleagues… and perhaps not have IT involved at all.  That brings us to agile visualization.
Agile Visualization
In SAP's mind, Agile means it's incredibly easy to adopt and deploy.  It should be light-weight.  Visualization means that its high quality and there is storytelling behind it.  The visualization tells a story.  It gives new insights.
So is this just Lumira?
No.  Steve was clear about this.  This is not just Lumira.  Lumira and Lumira cloud are a part of the agile visualization strategy, but the agile visualization strategy.  He promised that more would be shared at TechEd, etc.  I think this is great news!  We are beginning to see integration today between Lumira Cloud and on-premise systems and it sounds like this will continue.
Advanced Analytics
Steve said that this is more than just predictive.  As with Lumira, Predictive is a part, but there's more.  SAP's view is that this is not just for data scientists but data science for everyone.  It sounds we might begin seeing more 'smart' functionality build into the analytics.  We've already seen predictive leveraging the interface of Lumira for easy data access.  I can definitely envision a lot of possibilities here.
Key SAP Executives
Michael Reh (@reh_michael) – is leading development.  Passionate about analytics.
Christian Rodatus (@crodatus)  – Go to market executive for analytics.  18 years at Teradata.  Brings big data perspective.
Shekhar Iyer (@shekharlyer111) is leading the BI organization.  Brings a predictive perspective.
Jack Miller (@jackmillerIII) is Chief Customer Officer – in charge of generating successful, happy customers.
Jayne Landry (@jaynelandry) is Crystal Kiwi, working closely with Shekhar.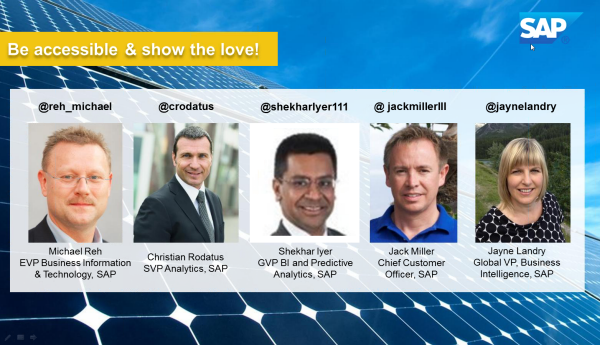 Other Highlights
SAP BusinessObjects BI Suite 4.1 is out of ramp-up.  All the KPIs were hit, so I would expect a GA release soon with the release of SP1.
There was a great video of a WebIntelligence-like product that was running on top of HANA.  It was written completely in HTML5.  I've never seen this before.
There was another nice video of Lumira doing geospatial analysis using the new Lumira Visualization Extensions which were released with SP11.  Timo Elliott recently did a nice blog post talking about this topic.
On September 9th, SAP is planning to launch a new BI online support site.  It looks as if they are following in the footsteps of the HANA launch site.  They briefly showed a mock-up of what it might look like.
Magic Bus
Steve revealed the new bus.  Yes, it's a literal Big Data Bus.  SAP will be rolling out a mobile briefing center that will be used to showcase SAP's latest and greatest. I think it's one of SAP's ways of saying there's  50 ways to leave your… niche BI tools.   So hop on the bus Gus!
I couldn't resist.
My Thoughts…
If you are an SAP customer and haven't yet purchased SAP BusinessObjects, there is no better time than now.  The integration between SAP and the BusinessObjects BI Suite is second to none.  Here are a list of just a few of the unique advantages you can leverage when reporting against SAP ERP and SAP BW with SAP BusinessObjects:
Support for SAP CTS+
Integration with Solution Manager
Support for RRI (Report to Report Interface)
Support for BICS (3x faster than legacy BAPI interface)
Best Heterogeneous data source support
Best Slice/dice performance within MS Excel
Embedded Analytics within SAP Business Suite EP6
Crystal Reports options for Advanced List Viewer (ALV)
Semantic layer support for Infosets, ABAP functions and ABAP Queries
100% In-memory support for all your SAP data
If your organization is committed to SAP Business Suite, then leveraging SAP BusinessObjects to provide reporting off those solutions is a no brainer.
Secondly, have a look at Predictive Analysis.  Although this product is relatively new, SAP has come a long way very quickly.  SAP has combined the core self-service Lumira (Visual Intelligence) product together with the power of R to deliver world class predictive analytics to the data analyst.  The interface is extremely easy to use and if you haven't seen it, check out the post I did where I provided a product walk-through.  It may not necessarily replace SAS today, but it can deliver tremendous value by shortening the length of time it takes data analysts to build, model and run predictive algorithms.  Users are no longer wholly dependent on the small number of statisticians to provide predictive  and statistical analysis.  Predictive Analysis is a game changer.
Thirdly, get familiar with SAP's simplified licensing.  Back in the day, when BusinessObjects was just one product, licensing was easy. Over the years as the BusinessObjects BI portfolio has grown, not everyone was ready to leverage the new technologies such as WebIntelligence, Dashboards, Explorer, etc.  As a result, BusinessObjects allowed customers to buy products à la carte to keep the pricing competitive.   A lot has changed.  Today, Business Intelligence is ubiquitous.  Everyone needs it and organizations should want to leverage the same solution for multiple types of users who have different analytic needs.  Back when the only product was had was Crystal Reports, I used to show how Crystal Reports provided enterprise reporting, adhoc reporting and dashboards. SAP's approach was to simplify this licensing through bundles.  At the beginning of 2013, SAP offered BI Suite licensing which provided two important changes:  concurrent user licensing and a powerful software bundle of nearly every product in the SAP BusinessObjects Business Intelligence Product Suite.
Conclusion
This #allaccesswebinar didn't answer all our questions but one thing was clear:  SAP is fully committed to an easy-to-adopt analytics product suite for all users that serves the enterprise through both on-premise and cloud.  They are committed to delivering solutions that: compete head-to-head against the newcomers, deliver customer value and are agile and easy to adopt and use.
If you want more information on the latest published roadmaps from SAP, go here.
Now… hop on the bus Gus!
«Good BI»