When Apple came out with the first iPhone, I was pretty amazed.  When corporate decided not to get us Blackberry's I decided the time was right to get the new iPhone 3G.  I wondered how long the magic would last… 2 months?  maybe 3?  18 months later I'm as in love with my iPhone as ever…   Each day there are new apps.  I've got apps for twitter, shazam, memo recording, dictionary, tv listings, the list goes on and on.  Even though I can't get corporate email "pushed" to my InBox, I don't care.  My iPhone is WAY too much fun.
Now the fun has been extended to  BI for the iPhone.
SAP BusinessObjects Explorer for the iPhone
Back in December of 2009, the Innovation Center released the first prototype iPhone App which provided the same ease-of-use exploration capability that I had with the web version.  The only problem with the prototype version was that it came with a predefined sample dataset that couldn't be changed.  It was a fun to demo and play with but wasn't of much practical use.  That all changed 4 days ago.
iPhone Goes OnDemand
Today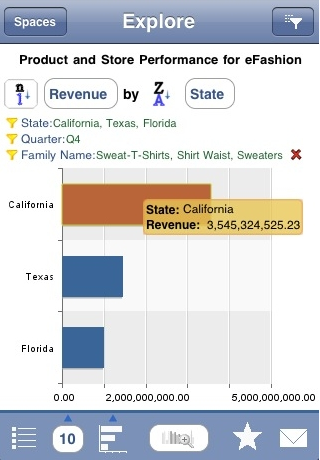 I downloaded version 1.1.233 which contains on important new feature.  Now I can access any datasets  that I have loaded up using my SAP OnDemand Account.  It's great to see this solution taking shape.
Key Features
• Search Across Data – Simply type in a few words or data elements and Explorer brings your data source to the top of the list.
• Automatic Data Relevancy and Chart Generation – Have Explorer automatically bring the most relevant data element to the fore and generate a best fit chart based on the number of dimensions and measures.
• Speed – Because the back-end data sources are index in memory, result are instantaneous.  Performance is perfect.
• Share Results – your results can be instantly email your insights to other users who don't have access to Explorer!
iPhone Demo
Here is a video that was posted by the SAP Innovation Center.
Please let the innovation center know what you think about these innovations.  Let's bring it into the mainstream product by popular demand!  Email them:  innovation_center@sap.com
Finding Out More…
If you are interested in additional information SAP BusinessObjects Explorer go here:
http://www.sap.com/solutions/sapbusinessobjects/large/business-intelligence/search-navigation/explorer/index.epx
Want to try our OnDemand Solution free for 30 days?  go here:
https://goexplore.ondemand.com/
If you are interested in other mobile solutions, you have to checkout RoamBI:
http://www.roambi.com/
«Good BI»