To View or View Latest Instance, that is the question.
An Instance
…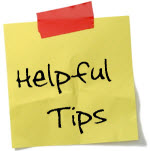 is also known simply as a Scheduled Instance or Report Instance.
If you are new to BusinessObjects, an instance is what we call a report which contains both a report template and data in a single file.  In the case of a scheduled report, once the report has been run, both the report template and the report layout are combined together and saved back the Repository.  This is called an instance or more specifically a report instance.
On Demand Reports
When a developer publishes a Crystal Report, typically only the report template is saved to the repository.  When the end user clicks on the report, the BusinessObjects platform will connect to the underlying data source and apply the report template to the data coming from the data source and produce a report layout which is then rendered in your browser.
Scheduled Reports
Scheduled Instances are extremely important because they are able to be rendered to the user in a few seconds as opposed to a live retrieval of the data which might take up to a minute (or more depending on your environment).  Users today do not want to wait.  As much as possible, I recommend organizations use report instances to improve the user experience and maximize scalability.
BEST PRACTICE:  Reports which take longer than 45 seconds to retrieve data
from the database should be scheduled.  Many long running "view on demand"
reports can cause an excess consumption of system resources.
View Latest Instance
In XIR2, the user was able to either click on the links, View or View Latest Instance, depending on what actions where available.  In XI 3.1  this was simplified.
In XI 3.1, the user may either click on the report and choose an Action from the menu or they may double-click and open the report.
When the user double-clicks on the report, a default action is taken.  The default action when clicking on reports is to View the report on demand.  This action will run the report retrieving the most current data for this report.
In many cases it is preferable to have the system run the Latest Instance of the report instead of running the report on demand.
This option can be changed globally for your SAP BusinessObjects environment via the CMC.
To change this option in XI 3.1, go into the CMC and Select Applications
Next Right-Click on InfoView and choose Properties.
When you scroll to the bottom you will see the option: Default Viewing Action on Listing Page.  Here you may choose either:
View the object (default behavior)
View the latest successful instance of the object
BI Launchpad v4.0
In BusinessObjects v4.0, this option is no longer available.
The default behavior is: View the latest successful instance of the object.  This is the opposite of the default behavior in XI 3.0.
«Good BI»