Push, Push, Push
We are close… oh, so close. The baby is coming. It should be any day now. No, my wife's not pregnant. It's the arrival of BusinessObjects XI 3.0. That's "three dot-o". Let me guess. You want to know why it's not called, "BusinessObjects XIR3". Search me. I guess marketing did some extensive research which showed the customers were more likely to find software labeled at 3.0 to be superior in quality, performance and usability of a "third revision". I suppose the "R" in revision probably doesn't do a release like this justice either. It deserves a new introduction.
Being involved in the beta testing process was a real treat. It's so hard not to be able to talk about all the cool stuff in the next release. Now that it's finally going RTM, I'll tell you what I think about it – and I promise it won't just be the marketing fluff.
I have to say. Now that BusinessObjects is an SAP company, I decided it was time to reorganized my 1542 powerpoints. Since I've been with BusinessObjects so long, I'm managed to accumulate a few and it was time for some housecleaning. I promise that I will begin to write a lot more information more frequently. A colleague of mine reminded me of the blogs associated with the BusinessObjects Diamond Developer Site, so I might begin crossposting.
Get Your SAP Roadmaps
Although everything is business as usual with regards to BusinessObjects, an SAP Company… (they make us say that now) … we are all curious to see what the roadmaps will look like. My biggest surprise was that some of the roadmaps were published out on the SAP Developer site before I had even seen them internally. Wow. Now that's what I call hot off the presses. Although not all the roadmaps are complete (e.g. what about where BusinessObjects Performance Manager and SAP's Strategy Management overlap? How exactly are all the Performance Manager engines going to evolve in the next version? There's SPC, Predictive and Sets.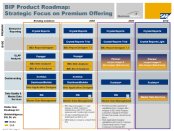 It's interesting to learn more about the SAP product offering and find that not everything from SAP requires the "Netweaver Stack". SAP's MDM and Strategy Management(Pilot) and Financial Performance Management (Outlooksoft) are three examples. All recently acquired and not necessarily SAP-only.
If you have some SAP BI technology and want to see the SAP BI Roadmap, I recommend you download it here. It's a great read and pretty clearly explains how the products will move forward. The only downside is there is no mention of WebIntelligence and Visual Composer on the Integration Roadmap slide. The upside is that it is pretty clear that BusinessObjects is the face of BI for SAP moving forward. Netweaver will continue to have some core BI components, but all premium capabilities will be handled by BusinessObjects (or should I say BusinessObjects, an SAP company).
Let me know your thoughts.