Bringing Together HTML Controls and Crystal Reports
Every once in a while I get a chance to present in a forum or user group and show some new amazing capabilities in the product suite. Last year I had the chance to demonstrate WebElements. WebElements is a collection of Crystal functions which generate HTML.
An easy to use library of functions for Crystal Reports designers who are also using the BusinessObjects platform:
Designed by a report designer for report designers
Embed different kinds of controls for report consumers
Easily distributed as an .rpt file to other report designers
Small in size, less than 60k unzipped
Automated installation
Expandable and customizable and code can be shared
Since Microsoft Reporting Services provides easy to use drop-down parameters, more and more customers are asking for the ability to embed web controls into their Crystal Reports. Now with Webelements we can add radio buttons, list boxes, drop-down selectors, action buttons, etc. In fact, Jamie Wiseman, the original creator of WebElements has a lot of great samples you can download from the Business Objects Diamond Developer website.  You can also search and find information about WebElements off the SDN website here.
Watch a 60 minute webinar on webelements now!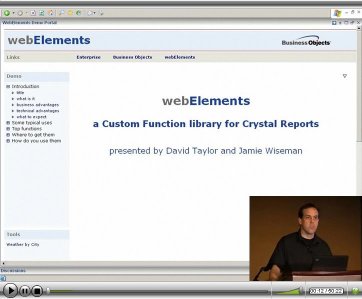 Get started now by downloading the WebElements Custom Function Library here.
Next time I'll discuss mashups and the new viewer JavaScript SDK in BusinessObjects XI 3.0.