Teleran – Your Database Nanny!
Okay – so the auditing and query management that comes with SAP BusinessObjects doesn't do it for you? Need more umph? Do you want more real-time information about your BusinessObjects system? Are you experiencing query and database performance problems? Need to identify long running queries and kill them?
Every once and a while you hear about a partner technology that makes you say, Wow! And that is what I said when I saw a demonstration of the solution from Teleran.
These guys are amazing and have a great solution for customers that are running Microsoft SQL Server, Oracle or DB2 (no Teradata yet). They have created specialized listeners in their iSight tool that watches the traffic and logs the activity in real-time. They even have a universe and reports already built using SAP BusinessObjects so that you can get up and going quickly. If you find a particular query is taking to long, perhaps you need to tune the universe and tweek the database. Teleran can show you the problem.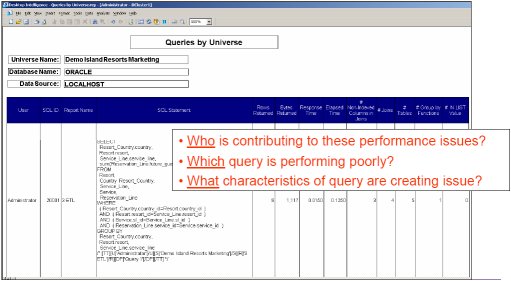 If you are having problems with user generating bad SQL, out-of-compliance queries, or if you simply want to add additional governs around the system they also have a tool called iGuard. iGuard is integrated directly into tools like WebIntelligence, so instead of a user getting a message like, "Query Error ODBC – Unable to Connect", then can get a message like, "The product server is currently down for maintenance. Please try again in 25 minutes". Now THAT is user friendliness.
Because Teleran understands how SAP BusinessObjects works, even if you are using a single user id such as "report_user" at the database level, Teleran can read the user, universe and connection, etc. information and let you easily audit who is doing what at the database level. Don't worry about turning on database logging and slowing down your production database. You can offload the work to Teleran.
The Greatest Part of All
The greatest part of Teleran is not that it's a great solution for SAP BusinessObjects managers and administrators, it's great for the entire EDW. Why? Because Teleran runs between the database and the query tool and is NOT SAP BusinessObjects dependent. You see, it can monitor ALL queries – not just queries from BusinessObjects. This means that if you have users access the database via TOAD, you can turn it off. You can turn off access to any unauthorized reporting/SQL generating tool.
To me, this seems like a must have solution for organizations who are struggling to get a handle on their data warehouse and need to make sure they are delivering a robust and high performing environment.
Check it out! You'll be glad you did.