Getting a Little Help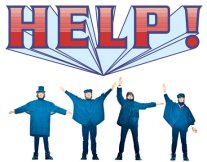 Happy Friday!  Hope you've had a great week…
A Little Help from My Friends
Ever feel like you need a little help?  I do all the time… and I really appreciate all my other friends out in the blogosphere who help me along the way.  When it comes to working with SAP BusinessObjects, there are two things that I always have trouble finding from time to time.  Where do I find the SAP BusinessObjects Software and the Documentation?  There are lots of links to choose from within the SAP Service Marketplace and so you don't accidentally get lost, I recommend you add two shortcuts to your browser..
All SAP BusinessObjects Software
For access to all releases of the SAP BusinessObjects Product Suite including all the EPM, GRC and Information Management solutions, go to:
http://service.sap.com/bosap-downloads
All SAP BusinessObjects Documentation
For access to all the documentation of all the current and past releases including release notes, user guides, administration guides, glossaries, reference guides, go to:
http://help.sap.com/businessobject/product_guides/
If you have some favorite SAP BusinessObjects links that you think others should know about, feel free to post them here as a reply to this post.
«Good BI»